APARTMENT RENOVATIONS
At spacelovers, we specialize in apartment renovation. Our team of experts can help you plan and execute a renovation project that meets your needs and budget. From simple painting to a complete overhaul of your apartment, we can provide the guidance and expertise you need to achieve the results you want.
For an apartment renovation, the development of an interior architecture project will achieve an exclusive and personalized design, where the needs of each Client is the motto for the transformation of the property. This is a guarantee of a successful remodeling work.
With the apartment refurbishment briefing and our analysis of the existing spaces, we can start the development of a unique project for the Client and adapted to each property. With the professionalism of our team, we manage your apartment renovations work, from the initial phase, with high quality standards, until the end of the work, being in constant communication with the contractor's company and with the Client. Work with an experienced team, develop an interior architecture project, and you will achieve a high constructive quality.
BESPOKE PROJECTS TO ALL RENOVATIONS
Spacelovers is proud to deliver bespoke projects and where respect for each construction is fundamental, accompanied by architects-project coordinators, you are always in the company of professionals who advise you in the best way.
Knowing that not all interior works have the framework as "no need for building permit", it is important to be correctly informed. In the process of remodeling an apartment with spacelovers, you will be able to clear all your doubts about your works, the building regulations, the constructive / technical issues and aesthetics suggestions. We are with you in all areas of work, ensuring the presence of an experienced team in apartment renovations. Share your ideas with us.
We offer a comprehensive service that includes not only the design and execution of the renovation works, but also the management of all necessary permits and authorizations. We work with architects, engineers and other professionals to ensure that your apartment renovation in Lisbon is a success
Shall we start remodel your apartment today?
YOUR PARTNER FOR APARTMENT RENOVATIONS
Spacelovers in all apartment renovations executes the project that allows you to remodel apartments differently, reinventing spaces making them contemporary and functional.
The entire conceptual phase is developed by architects and, sometimes, with the support of engineers, to ensure a cohesive result and the best solution for the property.
The multidisciplinary team of professionals is dedicated to your project so that its implementation meets your needs.
Expect nothing less than a personalized and entirely exclusive space, where you will be happy to inhabit. We take apartment renovations seriously, as many of the spaces are outdated and require, in addition to the modernization of coatings, a review of technical installations and also often an optimization of spatial functionality.
We guarantee the totality of the intervention, in order to guarantee a global work and make your apartment remodeling a success, always integrating the technical component that the works and remodeling require. Furthermore, we are specialized in promoting and presenting an appropriate solution that boosts the value of your property, in order to intervene to enhance it.
INTERVENE TO VALUE WHENEVER YOU REMODEL THE APARTMENT
Our Clients have different purposes to carry out apartment renovations, be it the modernization of the property where they live, improvements for sale, or even an update for placement on the rental market. Whatever your reason, spacelovers understands that intervening to add value is the only investment perspective. We understand their differences and accompany our Clients throughout the process, from planning — to the end of the work. In this line, we are at all times of decision, to be able to ensure that the choices you make are the most conscious and that the spaces are suited to your taste and personality.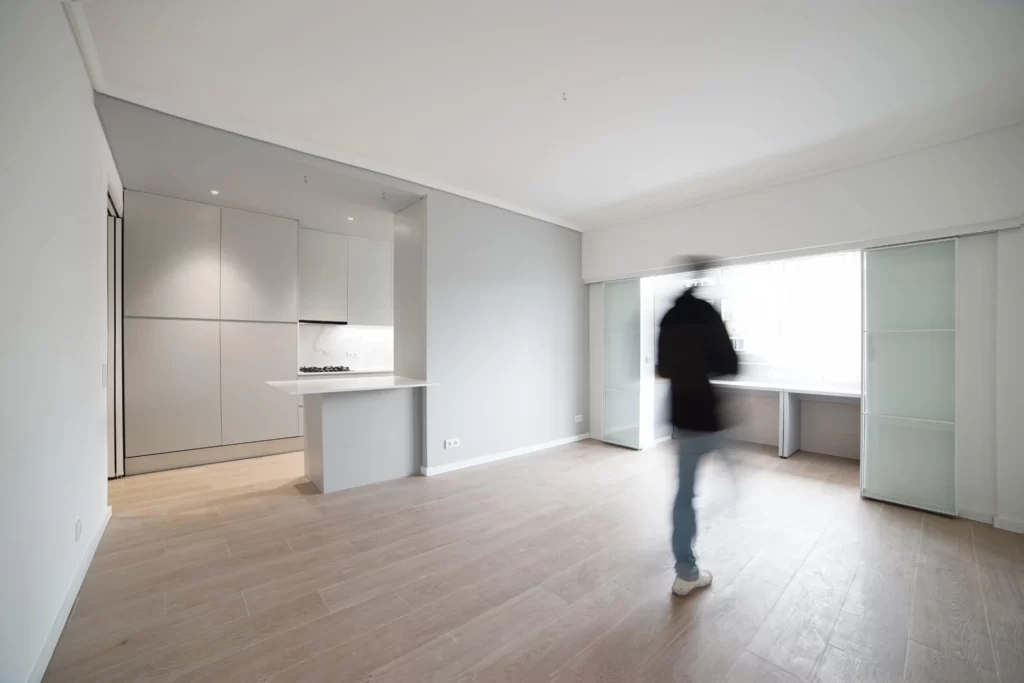 WE REMODEL WITH YOU AND FOR YOU!
Our focus and determination are exclusively focused on the Client and on apartment remodeling ideas for your property. Your satisfaction is what motivates us and is the driving force that helps us create and renew the most stunning spaces. With your vision and our experience, you can be sure that your home renovation will be an achievement — we make the perfect team!
The renovations and remodeling of existing properties requires experience and know-how in the sector. Renovations, in Portugal, are often part of works that do not require building permit, which does not mean that, technical and legal requirements, should be underestimated, nor that the applicable legislation will not be complied with.
For apartment renovations, you should always consult an architect to clarify your doubts. The visit to the property by qualified professionals is an added value that spacelovers makes available, whenever the intervention and property so requires. From the first contact with the property, our team analyzes the constraints and potential of the spaces, so that the remodeling proposal can respond and make sense to your investment. Apartment renovations will have a certain framework of constructive feasibility and financial profitability adjusted to each case.
CONTEMPORARY AND FUNCTIONAL APARTMENTS
Apartment remodeling recovers the comfort of the flat, in a logic of functional improvement, energy performance and not least the improvement of the interior environment. We offer all the services you need to remodel your apartment, to guarantee your family's needs and your lifestyle, always with good taste. With spacelovers you don't have to worry about the different suppliers and performers, as the intervention in your apartment will have all areas filled with qualified and specialized professionals. The civil construction, engineering, architecture, interior design and decoration teams will be able to work in total compatibility so that the property is transformed in a safe, viable and valued way.
APARTMENT RENOVATIONS INTERVENTION SCALE
Regardless of the intervention category, renovation works with spacelovers are always preceded by a project, to ensure that all details are included in the project. Doesn't matter if it is a one-bed flat or a 2 bedroom apartment renovation ideas are always possible with our team.

Small Renovations

Often also called partial remodeling. These are renovations that are limited to painting walls, replacing faucets, installing floating floors and skirting boards or even lighting fixtures. A refurbishment that will surely take less than 1 month to complete and will have a really lower price.
Medium Renovations

We admit interventions in apartments that already need projects, or at least a more technical specification. Such as replacement of window frames, alteration of furniture / integrated carpentry, installation of equipment (air conditioning, among others).
Full Renovations
This is the integral remodeling, it is where the civil construction work goes deeper and includes the replacement of plumbing, electricity networks, all carpentry, all interior doors, all walls and floors, window frames, among others. It certainly includes kitchen renovations and bathroom renovations.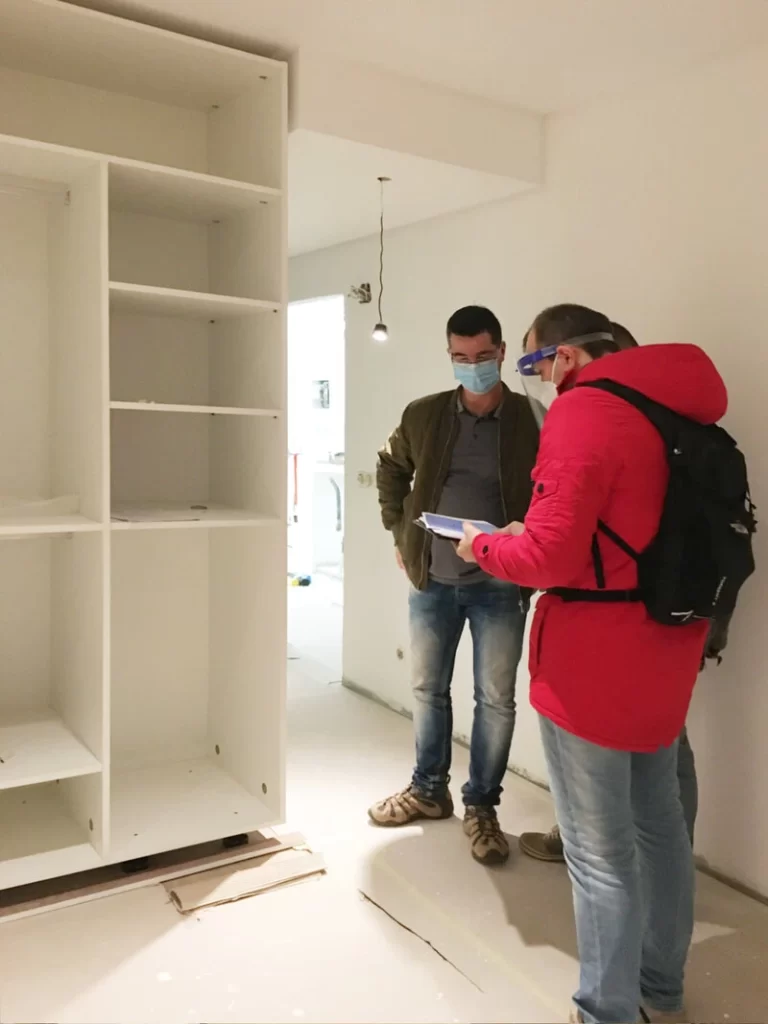 PERSONALIZED SERVICE
Personalized accompaniment is a point of distinction that you will certainly appreciate. Our Lisbon apartment renovations service is no exception — we are particularly comfortable with the exciting challenge of transforming spaces, and for that we pay particular attention to your ideas and concerns!
In the refurbishment work phase, our architects or engineers closely monitor the work with total transparency during the process. Spacelovers' mission focuses on:
— ensure that the excellence of an exclusive and personalized design is buildable;
— that the experience of the entire process with spacelovers is pleasant;
— Customer satisfaction in design, time, and efficiency;
— ensure that everything goes as planned with the refurbishment company.
We provide a personalized service from the conceptual stage, where we ensure that the Client who wants to remodel his house, feels accompanied throughout the process and even in the selection of apartment renovation companies. In each remodeling, ideas are discussed and analyzed on their feasibility — to have a work planned in detail and fulfill your dreams.

FILL THE FORM AND GET IN TOUCH

APARTMENTS AND RENOVATIONS
With house prices soaring and living costs on the rise, maximizing existing spaces are increasingly the most sought-after solutions.
The combination of fun and practicality is the aim of our renovation projects.
We think it is important to visualize and design the spaces to reverse the current situation that bothers you.
For each challenge we have in apartment remodeling, we will offer depth in design thinking and originality in the response to achieve the ideal solution for your use.
What sets us apart is flexibility and creativity – do we work together?
KITCHEN RENOVATIONS
Kitchen renovations are an integrated work in apartment renovations, which are one of our Clients' main concerns.
Its integration with the open space living room is one of the great trends in apartment remodeling.
As apartments usually have less area than houses, we see this solution more often than in housing renovations. This unified environment allows greater amplitude to the available space and promotes a greater approximation to the users of the space.